Our Real Wedding: April 17, 2021
"It was great! We were very nervous leading up to the big day but Mike Staff took care of it! It was so great having photography and videography know and work so well together. We would definitely recommend!" – Happy Bride, Allison
Our Love Story
My fiancé and I had been dating for 6 years. We met in college and we went on a trip to the Bahamas to celebrate my graduation from nursing school over Christmas when he proposed! We were on a sandbar in the middle of the ocean. It was so beautiful!
Our Wedding Vision & How the Pandemic Changed It
So we originally had the vision of a wedding in August with the nice warm weather, teal and burgundy for the colors, and we wanted to incorporate our dogs into the wedding as many ways as possible, but like many other Covid brides we had to reschedule. We choose April. We actually changed our venue with 12 days to go. Talk about crazy!! Everything from cake, church, venue, etc we had to change in the process of changing dates but one thing we didn't have to worry about was photography, videography and DJ.
Our Favorite Wedding Moments
My favorite moment… ugh there were so many!! But probably at the church when our priest had us look at each other and then back behind us to see how many people attended the ceremony. The first look was also very special.
Our Wedding Photography
So our photographer, Holly was hands down the best. She is so amazing at what she does! We could not have picked a better wedding photographer. She coordinated everything we needed and she was assertive and made it happen. Not to mention she was so nice and caring. Everyone had complimented her photos and said what an amazing job she did! Photos were very important because after the day is over that's what helps you remember the day!

Our Wedding Videography
It was important because we wanted to be able to relive the day over and over again! And that's what we do! I've honestly watched it so many times so far! I love seeing the day and all of the emotions all over again.
With the pandemic going on we couldn't have everyone we wanted to be present there so it was so nice being about to share the video and photos!
Allison and Garret's Wedding Vendors
Venue: Cherry Creek Golf Club
Church: The Cathedral of the Most Blessed Sacrament
Florist: English Gardens
Dress: The Wedding Shoppe
Live Painter: Trisha Strickland, MI Wedding Painter
Photo Booth: Shutterbooth Detroit
Hair and Makeup: VIP Salon
Mike Staff Productions: DJ, Photography, & Videography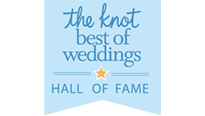 The Knot Hall of Fame
15 years straight
Wedding Wire Couples'
Choice Award
10 years
Recommended by Over 150+
Detroit-Area Venues and
Wedding Professionals