Intimate Wedding Packages
Build your intimate wedding package with Mike Staff Productions services.
Your Intimate Wedding Photography & Videography
In response to COVID-19, many couples are planning a different type of wedding celebration. We've found they tend to be a more intimate gathering and shorter in length. In order to serve these couples, Mike Staff Productions has put together a package that is perfect for these types of events. 
Our team practices all recommendations from health officials – including masks and 6 foot distancing
Save $200 when you bundle photography and videography.
Up to 3 continuous hours of coverage
All images edited for exposure and color balance
Full personal copyrights to all your images
Overtime rate: $250 / hour
Two camera coverage of ceremony
Up to 3 continuous hours of coverage
Edited video delivered by download
Internet upload of 3-5 minute highlight video
Overtime rate: $250 / hour
Add 3 hours of DJ services for ceremony music, toasts, dinner music and special dances; $600
Please ask about pricing for individual services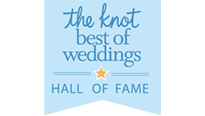 The Knot Hall of Fame
15 years straight
Wedding Wire Couples'
Choice Award
10 years
Recommended by Over 150+
Detroit-Area Venues and
Wedding Professionals
The Mike Staff Productions Guarantee
At Mike Staff Productions, we trust that you'll choose the perfect person to work with because you know what you want on your wedding day!  There's no such thing as a one-size-fits-all wedding photographer – we get that, that's why we invite you to be a part of the process during your appointment.
Let's bring your wedding vision to life!