Will You Regret Not Getting a Wedding Video?
7 Reasons to Get a Professional Video
You may think that having both wedding photos and a video are overkill, or may not want to prioritize videography in your budget, but trust us—you'll want a wedding video. In fact, The Huffington Post cites that 98% of brides regret not having one after their wedding.
Many brides feel as if they simply can't afford a professional wedding video. So, they ask a friend or relative to do it for them. Of course, their friend agrees, setting into motion disappointment and missed opportunity.
Your wedding video isn't just a wedding video. This is a living memory of your wedding day, which will become a family heirloom. You don't want to trust just anyone with your wedding memories.
Trust those that have been there, done that. If you have wiggle room in your budget (or if you could live without the the late night snack), a wedding video is a must. Here's some reasons to get a professional wedding video.
Make Your Wedding Day Last Forever
1. Re-Live Your Perfect Day Again… and again…and again…
Your wedding day will probably go by in a flash – but having a wedding videographer capture your celebration from before your ceremony to your reception will remind you of your best day ever for many years to come.
Will you remember the look on your fiance's face when he first saw you at the end of the aisle?
Will you recall how his voice cracked with emotion as he said his vows?
Can you possibly remember every word of your maid of honor and best man's toasts?

Wedding videography is a living memory of your wedding day. This is why you need a professional wedding videographer to capture all of your magical moments.
When your wedding is over, we're pretty sure that you'll wish that you could re-live that day over and over again. With a wedding video, all those incredible emotions and memories will come flooding back.
It takes professional videographers years to develop the skills and experience necessary to capture all of the important shots on your wedding day to make the perfect professional wedding video. Without comprehensive training and direction about what to shoot, when to shoot, and how to shoot it, you have no idea what you'll get. A professional wedding videographer will be prepared to shoot every once-in-a-lifetime moment that occurs on your wedding day – your walk down the aisle, the moment you say "I do," and the first dance as newlyweds. They'll also capture those moments that you didn't even see happening.
You can't be everywhere, yet you don't want to miss a thing on your wedding day. Your professional wedding videographer can catch everything that you may miss!
What will your fiance be doing, thinking and feeling just before you walk down the aisle?
What expression did your parents have on their face when they were seated in the church?
You spent thousands of dollars decorating your reception room, what did it look like before it opened for guests?

The list goes on and on…
3. It's a living family record.
You are creating a living family record. In future years, you will be able to look back at those no longer with you, sharing the memories with your children and grandchildren. Hear their voices, see them laugh, watch them alive and happy. This is truly priceless.
From your grandparents, aunts, uncles, cousins, cousins, college buddies or babies – it will amazing to look back at your wedding video in years to come, to see how the people you love have changed from then to now. Having that lifetime memory of grandparents & parents for example, could be priceless.
Suppose you could choose between professional photos of the day your grandparents were married, or a professionally produced video of that same day, in full color, with stereo sound. Which would you choose to view and keep as a family heirloom? Would you rather simply look at pictures or see AND hear your grandparent's voices and laughter? If you have children or plan on starting a family, having a recorded memory of your wedding day will be something for them to treasure and watch back in years to come. How could they not love watching Mommy and Daddy's love story over and over again? Bring it out on anniversaries and make watching your wedding video a special family moment.
READ MORE: Learn how Kelsey & Dalton's wedding video paid tribute to her late father
4. You'll Regret Not Hiring a Professional Wedding Videographer
What? You don't think you need wedding videography? Think again. 93% of newlyweds who did NOT hire a professional wedding videographer urge brides-to-be to include wedding videography in their wedding plans. Additionally, newlyweds that used both a photographer AND videographer agreed that video does a much better job of: capturing the emotions of the day, recording the history of the day, and creating a visual memory that future generations will enjoy more. Trust those who've "been there, done it". You want a video. Without wedding videography you can't share and re-live your vows, your first look, your friends and family celebrating and all the little details that make up your wedding.
If a picture is worth a thousand words, then video is an encyclopedia! Professional photographs of your wedding day are important and should be included in your budget. However, don't forget the advantages that video has over a one-dimensional photograph. Even the very best photographer can't capture the sound of your laugh or your wedding vows.
5. A Wedding Video is Really Not That Expensive
If you didn't add 'wedding videographer' to your initial wedding budget because you were afraid of the costs – think again.
If you get caught up in the price of a service, you'll naturally gravitate toward the lowest bidder. That's risky, because the vendors charging the least either cut corners to get you that price, or they're hobbyists with little experience. You also can't assume that the most expensive vendor provides the best products or services.
So, rather than focusing on price, think about the value a vendor will bring to your wedding day. Here's what "value" looks like at Mike Staff Productions:
Each member of our carefully curated team passes a 118-point certification process, so you can spend your time taste-testing cakes instead of calling references or worrying if you made the right choice.
Our back-ups are paid to be on call, so you never have to worry about the ultimate disaster—a no-show.
And couples tell us all the time how nice our people are—the sort of people you'd invite to your wedding. You'll love working with them!
6. Capturing Real Emotion
There are numerous parts of a wedding day when emotions can run high; from the father of the bride seeing his daughter all dressed up, to walking down the aisle.
Plus there are those small moments you'll miss that your videographer will capture beautifully, like seeing your grandmother's emotional reaction as you say your vows. Think sounds that can't be captured in a photo, like your "I dos," the reception music and meaningful toasts. Having these emotions captured on film will be forever sentimental to look back on.
7. Professional quality, from start to finish.
You have planned for a beautiful day and it should be captured with the same attention to detail. Multiple cameras, operated by experienced professionals, will allow you multiple perspectives of your wedding. You will receive a video that has been professionally edited using your preferences to receive an individualized video that truly reflects you. Your wedding video will be full of stirring, emotional sounds and images of your special day.
As much as consumer grade equipment and operator inexperience will affect the picture quality of your video, the poor sound quality will be your biggest disappointment. You will not hear your wedding vows, or every word of the toasts. In fact, most of the sound you hear will simply be background noise that is picked up from the mic on the front of the camera. A professional wedding video uses high quality equipment, so you won't miss one word of your Best Man's teary-eyed toast.
Hiring a professional ensures that your wedding film will be just that – a film. Your memories of your day should be preserved. With wedding videography you get a family heirloom that will be enjoyed and cherished for generations. A well filmed and edited professional wedding video will be a tangible piece of memorabilia that will help you enjoy all of the details of your wedding day over and over again. This is exactly what your professional wedding videographer will provide!
READ MORE: Our Post Production Process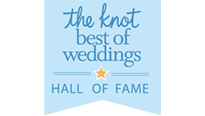 The Knot Hall of Fame
15 years straight
Wedding Wire Couples'
Choice Award
10 years
Recommended by Over 150+
Detroit-Area Venues and
Wedding Professionals