The Team Approach: DJ + Photography + Videography
Your Wedding Team Seamlessly Working Together
This is How You Disaster-Proof Your Wedding
Individuals vs. Team: Which is Better?
You only get one chance at a flawless wedding. If your vendors aren't in sync with each other, the whole day can go off the rails—fast.
How do you make sure that doesn't happen? Hire a fail-proof Mike Staff Productions team. We'll work together to perfectly execute your wedding vision, coordinating with one another, so you don't have to. 
Plus, you'll love the ease of having one point of contact for planning your Photography, DJ, and /or Videography.  Not to mention the money you'll save by bundling services.
Synergy. Simplicity. Savings. Satisfaction. That's the Team Approach. 
The Team Approach Makes Your Life Easier
(and your wedding better!)
When you hire our team, you get:
We're experts in helping couples streamline the process, eliminate the headaches, and significantly reduce the time and stress of working with multiple vendors.   
Wedding vendors often seem to compete with one another–rather than collaborate for your benefit.  Our team works together seamlessly with one single objective…
YOUR SATISFACTION.  Don't underestimate how important this is.
Bundle and Save big money when you book one or more services.  Get an additional $1500 in free upgrades when you book Photography, DJ and Videography.
The Secret to Hiring the Very Best Wedding Team
We help couples avoid wedding disasters by thoroughly vetting every one of our DJs, videographers, and photographers. Because we've been in the business so long we can spot a amateur from a mile away.
Save  yourself the hassle of all the research. We've already done the background checks, talked to references, shadowed and extensively worked with, and gotten to know each of our team members' competency and personality—which means we've eliminated the duds. 
Our videographers, photographers, and DJs are proven professionals—and we'll help you hand-select  which of our pros will perfectly match your style—and budget.
Wedding DJ – 6 hours
One Videographer – 8 hours
One Photographer – 8 hours
Includes $500 Bundle Discount
Exclusive online Planning Hub
50 extra designer enhanced images
Priority Video Editing – Guaranteed in 6 weeks or less
Raw Video Footage
Cinematic montage of pre-ceremony
Cinematic montage of romantics
Cinematic montage of reception
Additional Items Available
Add second Photographer for $500 (save $100)
Add second Videographer for $700 (save $100)
Add album for $795 (Plus get 10 extra album sides)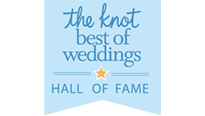 The Knot Hall of Fame
15 years straight
Wedding Wire Couples'
Choice Award
10 years
Recommended by Over 150+
Detroit-Area Venues and
Wedding Professionals