Your Guide to Hiring the Perfect Wedding DJ
Feeling overwhelmed? Not sure where to begin?
We get it and we got you.
Planning a wedding is so much fun! Until it just isn't. Every time you check something off your list, you think of three things to add. You're tired of doing research and making phone calls – especially when it comes to finding the perfect wedding DJ! 
At Mike Staff Productions, we've built our whole business around reclaiming the fun in your wedding planning. You only get one chance at this thing, after all. Here's a little inside secret – our Wedding DJs have all passed our rigorous 118-point certification process, the only one like it in the industry. We know a thing or two about vetting DJs. So, let us help you! We put together this comprehensive guide to hiring the best wedding DJ so your guests will talking about your wedding months later (for all the right reasons).
Signs of a Great Wedding DJ
Good wedding DJs play good music, GREAT wedding DJs do so.much.more.
As you begin your search for a reputable and experienced wedding DJ, follow this 11-point checklist to help you make your decision.
How to Have the Ultimate Wedding Reception
From common guest complaints, memorable exit ideas, kid-friendly reception ideas and reception timeline samples! Everything you need to make your reception a success can be found here. 
7 Ways to Have a Magical First Dance
Plus, check out our 'Top First Dance Songs' Playlist on Spotify – updated f0r 2021.
Hundreds of couples follow it for a reason! 
Your Guide to Wedding Reception Music
The music you play at your wedding reception is a reflection of the two of you as a couple, sets the tone for the evening! When considering types of wedding music for your reception, it is helpful to think about the evening in three distinct segments.
Spotify Playlist: Most Popular Grand Entrance
No pressure, but your 'Grand Entrance' on your wedding day is kind of a big deal. It's the official kick off to your PARTY and you want to make sure it kicks off on the right note… literally.
This is one of our most popular blogs and playlists. 
Spotify Playlist: Most Requested Wedding Songs
We asked our wedding DJs what songs they get requests for the most and they delivered. Check out the top 13 requested wedding songs your guests want to dance to at your reception. 
8 Ways to Make Wedding Reception Toasts Memorable
Whether you're giving a toast at wedding reception, or anticipating several toasts at your own reception, here's how to make them memorable and not cringe-worthy!
P.S. This is a good link to share with your bridal party 😉
Why These Brides Loved Their Wedding DJ
You want your wedding guests to have the time of their lives. (There's nothing worse than a boring reception!)
Our DJs keep the party going and the dance floor packed. These brides agree!
Popular Late Night Reception Snacks
Who doesn't love snacks? Especially after a night full of dancing! Offering wedding guests a snack a few hours after dinner and cake has been served is a great way to keep guests energized and ready to party.  Check out some of these snacks that are always a hit with guests.
Have questions? Want to check out team members available for your wedding day?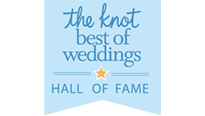 The Knot Hall of Fame
15 years straight
Wedding Wire Couples'
Choice Award
10 years
Recommended by Over 150+
Detroit-Area Venues and
Wedding Professionals