Timelines for Your Wedding Team
These timelines will make sure you know what to expect when working with your wedding team and how to keep your wedding day on track.
Preparing Timelines for Your
Wedding Day
The purpose of your wedding day timeline is to keep everyone on track – from your photographers to your caterers to your bridal party. You'll have a better idea of what time you need to start getting ready, when vendors should arrive, and even setup and breakdown times.
Having this timeline prepared helps you find any potential issues throughout the day, and fix them before the issue even arises.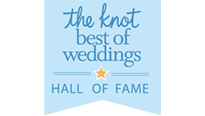 The Knot Hall of Fame
15 years straight
Wedding Wire Couples'
Choice Award
10 years
Recommended by Over 150+
Detroit-Area Venues and
Wedding Professionals